St. Louis Server Colocation Services
Highly Scalable, Secure, Redundant and Reliable
Not only is Cybermill's St. Louis data center a top-tier facility in terms of infrastructure design and network connectivity, because of St. Louis' location in the heart of Mid America it's an ideal place for the distribution of internet data nationwide as well as globally. On top of that, Brainbench has ranked St. Louis in 6th place for IT IQ among all U.S. cities. There are so many reasons why St. Louis server colocation makes sense for so many businesses.
Our data center is housed in the Bandwidth Exchange Building, a secure, all-steel-frame, 18-story building in downtown St. Louis. It is one of the largest telecommunications facilities in the central region of the U.S. All major carriers, including AT&T, MCI, Verizon, Qwest, Level3 and Voxitas have facilities here.
Powered By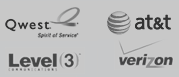 Our 22,000 square foot data center accommodates large server farms. We maintain direct multi-gigabit bandwidth connections into five top internet backbone carriers. These include: AT&T, MCI/Verizon (UUNET), Qwest, Voxitas and Level3. Our scalable multi-gigabit internet network currently handles more than 10-billion hits each month.

The Bandwidth Exchange Building's electrical service includes three different power feeds on a spot network with automatic failover capabilities. Level current and short-term power backup for our St. Louis data center is maintained through a complex UPS system. Our two 1.5 megawatt diesel generators provide protections against longer-term power outages. In addition, optimum temperature and humidity are maintained accurately with redundant HVAC systems.

Plus, our facility and its equipment are further protected by a pre-action, dry pipe fire suppression system. Security measures include a five-level system featuring access codes, a security guard station, biometric hand scanners, electronic proximity readers and security cameras.

Key benefits of our St. Louis server colocation services include:
State-of-the-art top-tier data center facility
Multi-carrier access to direct premium internet backbone bandwidth
Managed services - monitoring, reboot, online backup space, etc.
24/7 On demand managed services - network security, data storage, system administration, etc.
Scalable, on demand bandwidth ranging from 10 mbps to 1 Gbps
Cybermill Interactive supports a wide variety of hardware and software, including: Cisco router, switch, firewall and IDS; Linux server, Windows server, Sun server, Mac server, Voice over IP gateways and more.
Contact us today for a quote and to learn more about how we can customize our St. Louis server colocation service to fit your needs!